Featured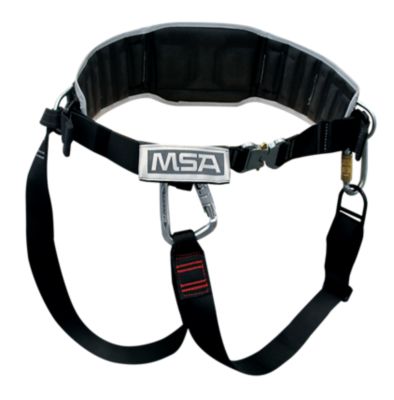 alphaBELT rescue and holding belt
alphaBELT is a sleek and durable rescue and holding belt, that can be easily integrated into your MSA SCBA. With its multiple functions, the revolutionary alphaBELT eases your everyday work as a first responder. Besides restraining and positioning, it may offer you the last resort – a quickly accessible and safe rescue seat for self-rappelling in an emergency.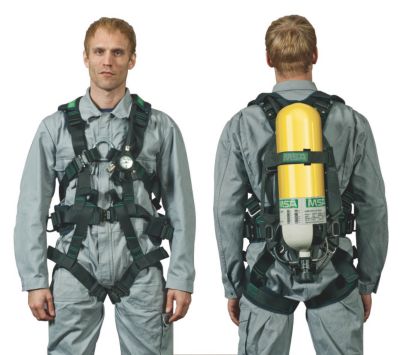 alphaFP Fall Protection Harness for SCBA
The alphaFP Fall Protection Harness for SCBA has been developed for challenging applications which require both Respiratory and Fall Protection. The unique 2-in-1 solution can be connected easily to any MSA SCBA backplate. Donning is completed in very few and intuitive steps. alphaFP offers the highest safety in exposed situations. Its excellent wearer comfort makes the SCBA harness ideal for height and shaft rescues, respiratory protection and tunnel operations. The two versions alphaFP pro and alphaFP basic are available in standard and large size. alphaFP pro additionally features hose protection tunnels on the shoulder pads and quick connect buckles between harness and SCBA for ease of mounting or emergency removal during operation.
HP Compressors
Designed to quickly charge 300  and/or 200 bar cylinders, MSA high pressure breathing air compressors work seamlessly as part of an air purification system that meets the highest, most stringent standards. Low operating speed for continuous, reliable operation. All moving parts are electronically balanced to run smoothly. A variety of horizontal, vertical portable and mobile models with charging capacity from 100 up till 570 liters per minute (larger models on request) are available. The compressors can be supplied with electric, gasoline or diesel engines. Vertical models from 230 up to 570 are available also with highly efficient noise suppressing cabinet for indoor application. Great variety of options and accessories are available. * Humidity control * Electronic Computer Control * Oil pressure control * Temperature control * Filling panels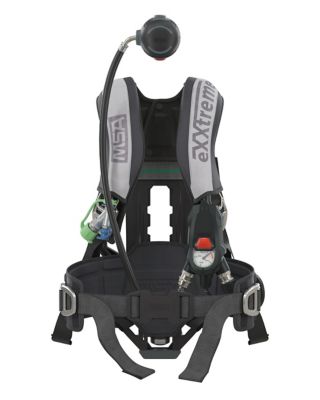 Special Harnesses
The MSA eXXtreme harness for SCBA is the right choice for repeated  extreme conditions, e.g. during demanding training scenarios. With improved materials, the special harness minimizes your investments in maintenance, repair and replacement parts.
AutoMaXX
With its large, colored operating buttons, swivel connections, silicone line and maintenance-friendly design, this lung-governed demand valve set milestones for fire fighting around the world. Features automatic first-breath activation (depending on model), as well as automatic deactivation on separation from mask (depending on model). Available in both normal and positive pressure versions.
alphaCLICK High Pressure Coupling System
alphaCLICK is the high pressure coupling system for very simple and rapid connection of compressed air cylinders to the pressure reducer. Now enhanced with new safety features on adapter and coupling.
Covers for Cylinders
Breathing air cylinders cover and protect your most valuable asset - under a high pressure. The quality of this security comes at a price. Your breathing apparatuses were designed to withstand most environmental hazards. Compressed air cylinders, however, can already lose operational safety by superficial damage and can become unusable. So it is worth to keep your cylinders undamaged and clean while they are in use under protected conditions. Our protective covers meet all basic needs for the protection of your cylinders.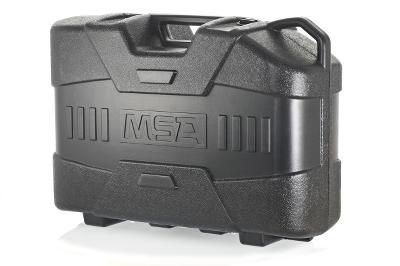 Storage and Transportation
We at MSA have designed your equipment to withstand the most severe environmental hazards, to ensure it is protecting you at all times. Therefore it is worth to also keep your equipment clean and ready for use while storing or transporting it under protected conditions to the point of action. Our standard hard-cover cases fulfils all important basic needs to protect your equipment during transport and storage.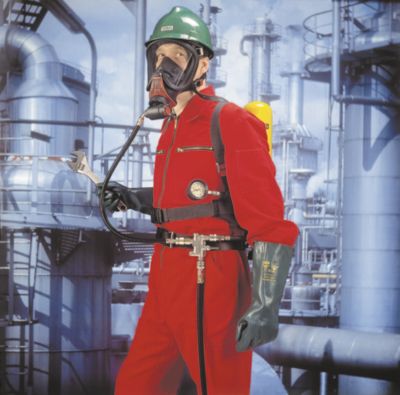 Compressed Airline Breathing Apparatus and Accessories
MSA's Compressed Airline Breathing Apparatus delivers a ready supply of safe, breathable air wherever air is irrespirable or oxygen deficient. MSA's corresponding accessories, including compressed air filters and automatic switch valve, ensure air quality and deliverability.